Exclusive, secluded and natural
Imagine being here with your course, workshop or retreat, and having the place to yourselves.
A unique place for your event in a natural environment
The atmosphere, the service and the premises… yes, and of course breakfast and dinner also! We notice that our guests' experiences here become talking points. Our focus is entirely on listening to your needs and giving that extra unique touch based on the program and desired content.
With room for up to 20 people living in double rooms, we welcome those of you who like to create your own formats and enjoy our perfect location. You set the framework and we help fill in with food, refreshments, accommodation and activities, as desired.
Come and visit us!
We invite you to see this place so we can talk about how we can tailor your particular event! Email bokning@cocoonmeetings.com and we'll get in touch to book a meeting.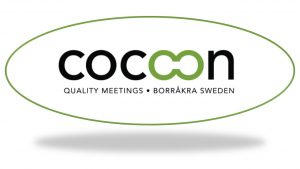 Midsummer weekend and New Years Eve open for groups that want to rent the whole place.
You have access to all the premises!
Email your request with dates, number of people and what you want the offer to cover (which meals/refreshments, etc.) to bokning@cocoonmeetings.com
Rural location, fresh rooms and bathrooms. Fantastic, accommodating and service-oriented staff. Hotel owner is very hospitable and helpful. The restaurant was outstanding, very warming and amazing food! Nice with the jacuzzi.
Check out from everyday stress, go offline and relax in peaceful surroundings. Gaze out towards the meadows and sea, take in all the countryside's refreshing scents and wildlife. Relax and be mindful of the present, with nature right outside the window.
Nice and tidy rooms. Good facilities with access to fridge and freezer. Beautiful common areas, both inside and outside. Nice dinner with a well-composed menu and friendly and accommodating staff.